Homes are taking longer to sell at the moment because of delays in the process, with our latest data showing there are a massive 613,000 properties trying to reach completion.
The temporary stamp duty holiday that came on 8th July last year is due to end on 31st March, so we've put together some advice if you're just starting out or if you're in the middle of a move right now.
How long is the process taking?
The latest study from our data analysts shows that it is now taking 126 days from the time an offer is accepted until legal completion, which is just over four months.
If you've just put your home on the market, the average time from advertising a home until it has an offer is accepted is 57 days, so on average the total process is around 26 weeks.
But remember these are averages, and it will depend on a number of things such as if you're a cash buyer and so can move more quickly, if you're in a chain, and how long your local searches will take.
If you're starting out the year looking for a home, we'd advise that you don't factor in any stamp duty savings from the temporary holiday, unless you're a first-time buyer and are buying a home for £300,000 or less.
What if I've already factored in stamp duty savings?
We estimate that based on the current situation, around 100,000 sales going through are going to miss out on the stamp duty savings.
If you think you're in danger of falling into this group, speak early to your estate agent and ask for their advice on making sure the sale doesn't fall through, as it may be possible to re-negotiate with the seller.
Is the market busy?
The good news for sellers is that buyer activity is even higher than it was a year ago, and last January was particularly strong because the market had some post-election certainty of a majority government.
Many people have reassessed their housing priorities following their experience of lockdown, and with another long lockdown upon us, there are early signs that we are surpassing 2020's new-year surge in activity.
The number of prospective buyers contacting agents between 2nd and 12th January was up by 12% and sales agreed numbers were up by 9% on the comparable period last year.
Visits to our site have also continued to increase since the start of January, and are up by 33% on the same period in 2020.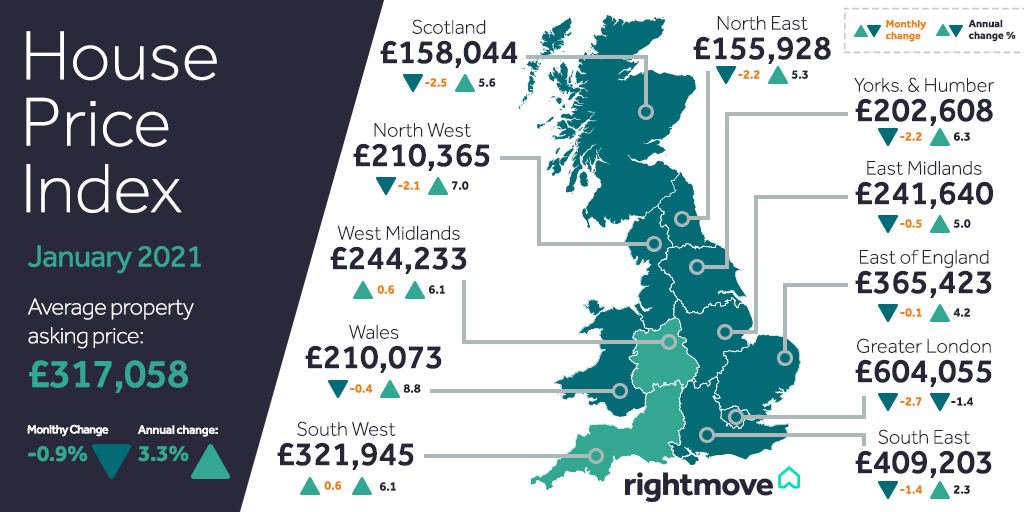 Will things change when the stamp duty holiday ends?
We anticipate a slower second quarter once the stamp duty holiday is over, but it should also be remembered that the surge in buyer demand after the first lockdown in 2020 was initially driven by movers' changed housing needs.
This means that the momentum we saw last year actually started a couple of months before the July introduction of the stamp duty holiday.
The combination of the two resulted in an amazing recovery in 2020 activity despite the pandemic, with the number of sales agreed up by 10% compared to the whole of 2019.
The stamp duty holiday has undoubtedly added extra momentum to the market, but all regions have seen far greater average price increases than the average savings in stamp duty.
To read the full article click here